---
Popular depictions
The career of the Panzer "ace" Kurt Knispel is sparsely documented. When illustrators or model builders choose "Knispel's Tiger 1" as their subject, referring to the summer of 1943, they usually depict an Early Tiger numbered "101".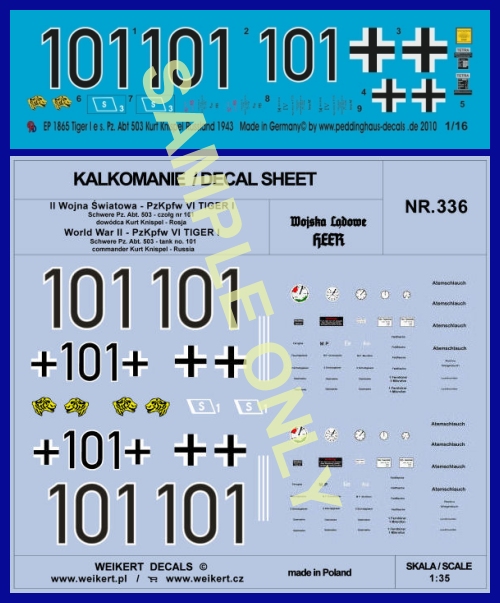 For example, these commercially available decal sets state that their "101" digits are for Knispel's Tiger. One of them names him as the tank's commander, which we know to be wrong. The other set is advertised for "Early Tigers". I will discuss that in another article.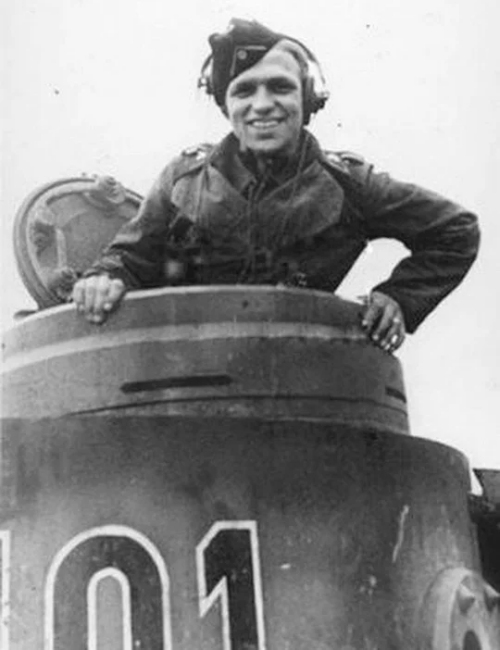 All of these depictions are based on this well-known photograph of Knispel in a Tiger whose turret number can only be "101". But there is no other evidence to suggest that he served in this vehicle. Is it reasonable to assume that "101" was Kurt Knispel's Tiger?
---
Whose Tiger was 101?
We know that, in summer 1943, Kurt Knispel was a Tiger gunner in the 1st company of s.Pz.Abt.503. Whatever Tiger could be called "his", its number should therefore begin with a "1", if the unit used typical German numbering practice. But did it?
The battalion's first batch of tanks, issued at the start of 1943, included 20 Tigers [2] . Their numbering scheme is described in "Tigers in Combat 1" [1] . But careful study of dozens of photographs reveals that the book makes a small error here.
Those 20 Tigers were organised into two companies of nine each, plus two Command Tigers for the headquarters. Each company had a single Tiger for its commander. The book states that the commanders' Tigers were numbered "100" and "200", but photographs prove that they were in fact "101" and "201". The 1st. company's Tigers were numbered like so;
101
111
113
121
123
131
133
141
143
The digits were painted white at first, while the black-filled digits seen in Knispel's photo date from the Spring of 1943. But, in both cases, photographs prove that the unit had a standard German numbering style, using "0" for the platoon number in the company command tanks. Tiger "101" therefore belonged to the commander of the 1st company.
And that casts doubt on the association of Knispel with Tiger "101". No textual source suggests that he was part of a company commander's crew. And yet; there he is, in the cupola of "101". Why else would he be there?
---
The press and Knispel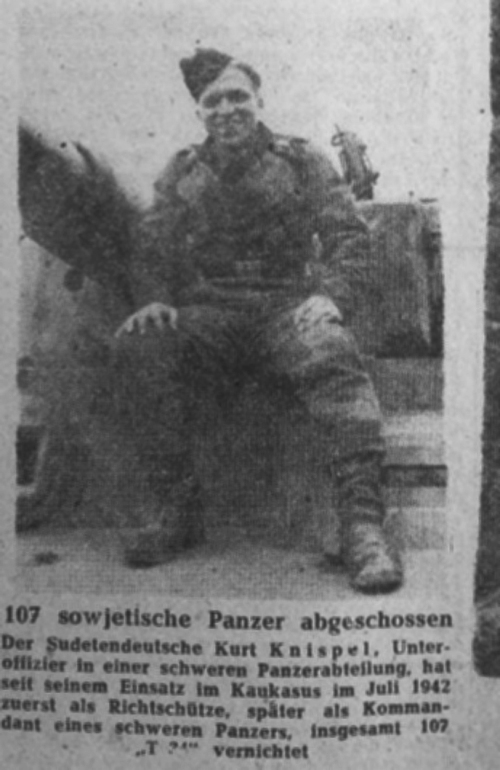 This item was published in the "Völkischer Beobachter" Nr. 138, 17 May 1944. It shows Kurt Knispel sitting on a Tiger. I consider it significant that his clothing, shave and haircut are very similar in both photos. It's also possible that Tiger "101" is in both photos; for example, the mantlets are of the same type (out of three types) and both tanks have an unusual welded mount for a headlight on the mantlet.
This all suggests a scenario that could explain Knispel's presence in the cupola of Tiger "101". Suppose that a journalist arrives at 1.company in late 1943 asking to photograph Kurt Knispel. He requests to take photographs of the "ace" on a Tiger. The company commander assigns his own Tiger for the photo shoot; perhaps it is the cleanest one. Both of the photos are then taken.
---
Conclusion
So, we should not assume that Kurt Knispel had any close association with Tiger "101". I will discuss in another article what Tigers he is known to have served in.
[1] Tigers in Combat I by Wolfgang Schneider