Thumbnail representation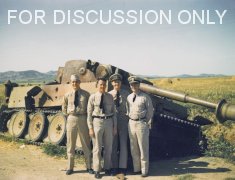 Description
This is a rare colour photo of a Tiger in Tunisia. The photo was taken after the end of the Tunisian campaign, and the wrecked Tiger is heavily weathered, but it is believed that its original colours can be seen on some areas, notably the gun. The turret side hatch lies open, and the side skirts have been mostly removed.
The Tiger is number "121" of s.Pz.Abt. 504. It was left by a main road north of Tunis. We know the location because of the hills in the background.
There are three penetrations of the armour on the right side, indicating that the tank was knocked out or used for target practice. The gun's protective sleeve has broken away from the mantlet; this would be repaired promptly if the tank survived a battle, so perhaps Tiger 121 was knocked out here.
Unique URL