Thumbnail representation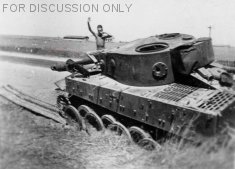 Description
This is Tiger "121" of s.Pz.Abt. 504. It is abandoned by a roadside in Tunisia and has been there for some time. An Allied soldier sits on the gun and humorously imitates the German leader.
The tank's cupola and loader's hatch are missing, whether from an internal explosion or from looting or recycling is not clear. Certainly the sheet-metal skirts were removed long after the tank was abandoned. The tank was pushed into the ditch after sitting in the road for some time, and now there has been an attempt to remove a track. A stiffening bar on the underside of the turret roof can be seen through the cupola's opening. The engine hatch is propped open, and this can only mean that objects are placed on top of the engine. Like its sister, Tiger "131", this tank has the welded mounts and supports for S-mine launchers.
Farm buildings are visible behind the soldier. The left-hand building can be found on modern satellite photos and it was used to determine the location of this photo.
Unique URL