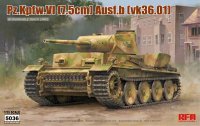 This kit builds a Panzer that almost, but not quite, existed. The prototype tank VK 36.01 was being developed by Henschel as Germany's next medium tank, and it was close to completion. But then the authorities changed the requirements. They now wanted a heavy tank, so the vehicle was enlarged and it became the Tiger. This model kit represents the medium tank that Henschel intended to build.
The model is based on photos of the prototype hull and other information. Many of the parts were reused in the Tiger, so we have very good information about them. Although this tank never existed in its complete form, this model must be very close to what it would have looked like.
This kit was released originally by Revosys. Their release included a partial interior and several speculative options for the outside features of the tank. Rye Field have omitted some of the sprues while reboxing the kit. In this release it has no interior and only one external configuration.