Scale: 1 / 16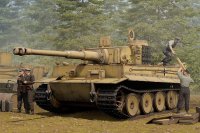 Following soon after the release of the Early Tiger from Andy's Hobbies, this is a second kit addressing the same subject in the same large scale. But, while the Andy's kit aims to be a static, accurate representation of the subject, this is a remote-controlled mobile model of limited accuracy.
There are protrusions on the lower nose plate of the kit's hull, on both sides, to accomodate the motorised drive wheels. These protrusions did not exist on real Tigers.
The cupola hatch is the only one that can be posed open.
Decals for six Tigers are included. Despite the large scale, we get no small labels or lettering (e.g. the number "13" should be visible on the open hatch).