Scale: 1 / 35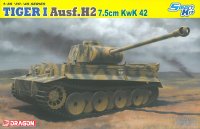 It's not widely known that the Tiger's turret, with its 88mm gun, was originally planned to equip only the first 100 vehicles. A smaller turret with a more powerful 75mm gun was under development and would have been introduced early in 1943. However, a design change to the ammunition for the 88mm gun allowed it to meet the required performance, so the new turret project was cancelled.
This kit represents what would have been the Tiger 1 during 1943 if that project had been completed. The turret in this kit is based on the wooden mockups from the actual project work.
These are reviews or examinations of the kit;
TIGER1.INFO is not responsible for the content of external sites.