Scale: 1 / 35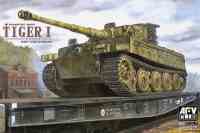 This kit builds an end-of-run Late Tiger. It features working hull hatches, rolling wheels, working torsion-bar suspension and spring-controlled track tension. The tracks are one-piece flexible. PE mesh screens are provided for the engine deck. There is a turned metal gun barrel.
This is the only Tiger kit that builds "transport" configuration and includes the appropriate narrow tracks (standard tracks are not included). Since this is a Late Tiger, "transport" mode makes no changes to the wheels. The builder is obliged to cut off part or all of the front mudguards which are molded into the kit's glacis plate. All of the mudguards to be installed on the model are photo-etch, comprising up to 60 parts. The outer portions are hinged and with care can be made workable.
Most of the kit's features are correct for a final version Tiger. It has the small idler wheels, the small muzzle brake, the monocular mantlet, the 40mm turret roof, the turret protective ring, and the heater port. There is a choice of hinges for the side hatch, but only one of them is appropriate for this version.
There are a few errors. The underside of the hull (usually not visible) has some protruding details that should be recessed. The tiny supports that hold up the rear mudguards in transport mode are omitted, but can easily be scratchbuilt. The turret roof has the largest error; it represents the final version but it lacks the transverse weld line. The easiest fix is to remove the three "pilze" crane mounts and build a May 1944 Tiger.
My ongoing review and comments;