About this detail of the Tiger
All Tiger 1 (except for the prototype "V1") were fitted with periscopes in the two crew hatches in the hull. From March 1943 onwards a third periscope was provided in the turret roof, for the loader. All three of these periscopes were of the same type, a tall vertical device, almost 300mm in overall height, but split into two identical halves.
A new design of turret was used from July 1943 onwards. This turret had smaller, slanted periscopes in both the cupola and the loader's position. The old vertical periscopes were used only in the hull from that time forwards [7] .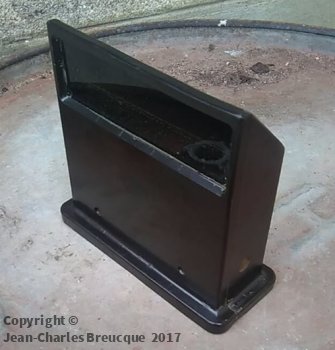 This is one of the two halves of a vertical periscope. Its casing is made of Bakelite.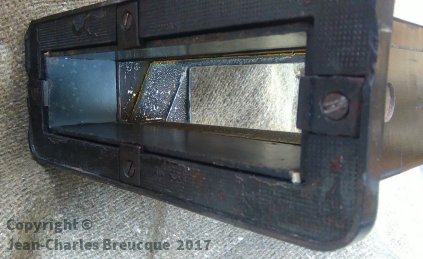 Inside there was some empty space enclosed by two metal L-brackets screwed to the bottom of the casing. A rubber gasket separated them from the glass prism at the top.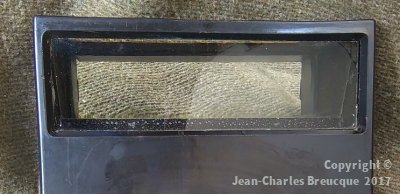 There were no markings or gradations of any kind on the glass surface, and the glass was essentially colourless. The viewing window was 126mm x 42mm [6] .
This is my diagram of a periscope half.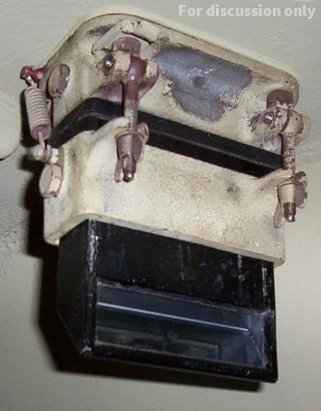 Both halves of the periscope were fixed in this holder which was bolted to the underside of the roof or the hatch respectively. After opening the two wingnuts, a crewman could fold back the lower portion of the holder and remove one or both of the periscope halves. Note that each sleeve has a large, short bolt on each side which engages with a recess on the side of the periscope.
To protect the crewman from hitting the periscope in a moving vehicle, rubber protective covers were provided. Many photographs of Tigers show these covers on the periscopes, but they are not always present.
This is my diagram of the cover. I am working entirely from photographs so this is only an approximation.
[1] Survey of vehicle 251114, at Saumur, by Jean-Charles Breucque
[2] Survey of Tiger 250031, by Stephan Vogt
[3] Survey of Tiger 250122, at Bovington museum, by David Byrden
[4] Turret Manual, Plate 35: Prismeneinsatzlagerung
[5] Survey of Tiger at Kubinka museum by Alexander Diw
[7] DW to Tiger 1