About this detail of the Tiger
The thickness of the turret roof on the Tiger was initially 25mm. Later it was increased to 40mm. In keeping with standard design policy for Panzers, the internal dimensions were preserved, and the extra thickness appeared on the outside.
The walls of the turret were not altered. This produced a visible step at the top of the wall. Copied from a German factory drawing, this diagram shows how the plates were cut and welded.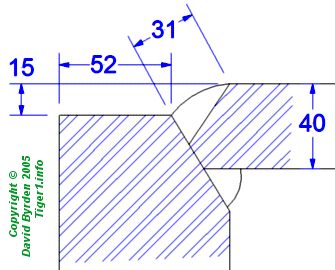 The plates were not cut as precisely as this diagram suggests. They did not always fit perfectly and they roof was not always level; an error of +/-5mm was allowed.
[1] Factory drawing 2AKF31861U1B12: Turmgehause (turret front plates)