The lighting circuit in a Tiger's turret was simple and very similar to those of the Panzer 3 and 4.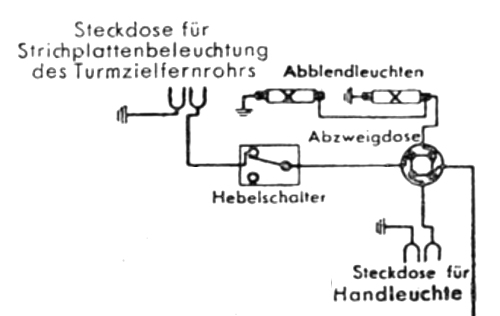 The Turret Manual contains circuits [2, see Plate 59] for both the "Old" and "New" turrets, referring to the redesign when the cupola was changed. This is the lighting circuitry from the "Old" version.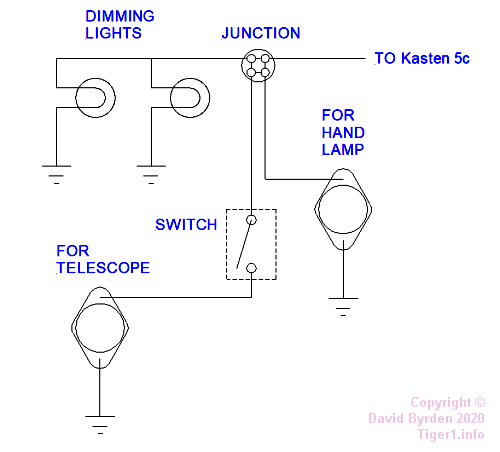 This is my translation of it. Everything connects at a junction box. The magnetic hand lamp, or "Magnetlampe", is not shown here and was plugged into its socket only during maintenance. The "Dimming lights" on the turret roof each contained their own "Off" switch. But the lamp in the gunner's telescope did not, hence the switch here.
One peculiarity of the diagram is that it shows two lamps for the turret roof. This circuit was copied to the Tiger from the Panzer IV, which had two roof lamps, and that may have been the designer's intent at the outset. But the earliest Tiger that we can examine, the 31st, has three roof lamps.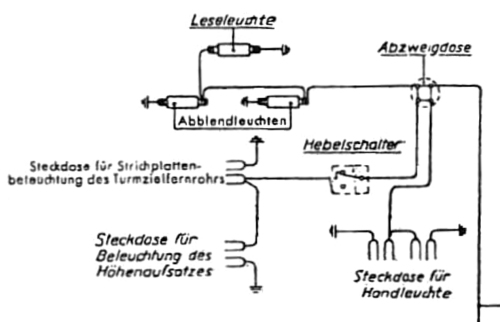 The "New" turret had many improvements over the "Old". Its lighting circuit had two sockets for hand lamps, and two roof sockets for the gunner's instruments. This is the "New" circuit as shown in the turret manual. But the extra hand lamp socket may have been introduced during the "Early" period, because it's recorded that a socket for powering the S-mine launchers was added at turret #324 [1, see 3.4.2.11] .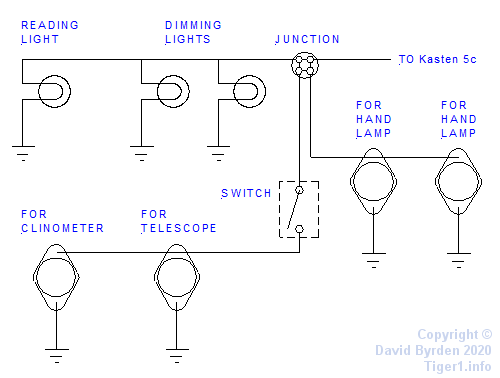 The commander's roof lamp is now drawn in the circuit, and is referred to as a "reading light" although it was identical to the others.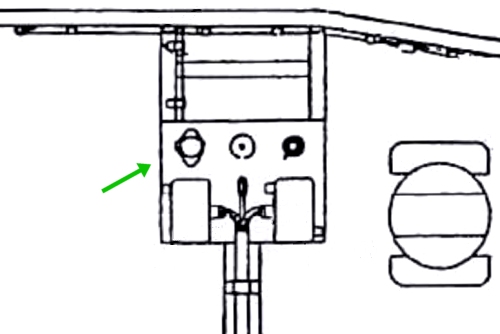 Another diagram in the turret manual [2, see Plate 61] shows the "New" turret with only one hand lamp socket, but this diagram was drawn long before the "New" design was finalised, and it contains elements of the "Old" turret.
In late 1943 the Tiger's turret was simplified. The number of power sockets was reduced to the original two; one for the telescope or clinometer, and one for the hand lamp. The circuit would not be changed again.
[1] DW to Tiger 1
[3] Survey of vehicle 251114, at Saumur, by Jean-Charles Breucque
[4] Survey of Tiger 250122, at Bovington museum, by David Byrden