About this detail of the Tiger
To provide the Tiger with protection from infantry attack, a system for launching S-mines was added to the tank at the end of 1942. The launching tubes were not available until March of 1943, but already in December 1942, new Tigers were leaving the factory prepared to carry them.
Several small but obvious external changes were made to the Tiger to support the S-mine system. Three pairs of small metal strips were welded to the hull roof.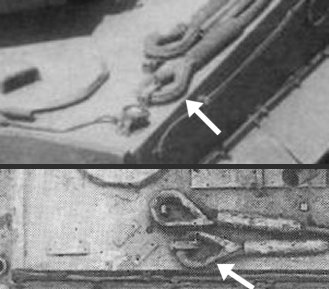 To make way for the strips, the outer length of the tow cable was moved backwards. It had reached almost to the headlight stand, as the photo shows; but its clip was now shifted backwards to make room for the S-mine metal strips. The second part of this photo shows the welded strips. The cable clips on the engine deck were also moved slightly.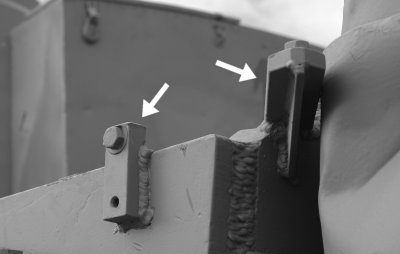 At the rear corners of the hull, a protruding arm was welded to the back plate, and a small rectangular mount was welded to the side plate. A second arm could be bolted here, and the two arms would support an S-mine launcher. When the S-mines were not present, the arm on the side of the tank was removed; but the welded parts would remain.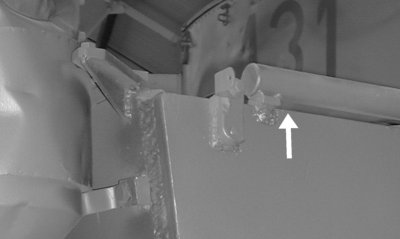 At the rear right corner of the hull, the antenna tube was moved. Originally it extended out over the back of the tank by a few centimeters, and had an opening cap at its back end. Now, it was turned around so that the cap was at the front end, and it was moved forward by a short distance to clear the S-mine gear.
In Rye Field Model's 5003 kit, the instructions tell you to build the tank without the S-mine system. But this is not correct for all of the decals in the kit. Tigers 311 and 314 did not have any S-mine gear, but Tigers 321, 331 and 323 had the welded strips and arms. None of these Tigers had the launcher tubes.
In Rye Field Model's 5005 kit, the instructions tell you to build the tank with the permanent parts of the S-mine system, while omitting the launcher tubes. This is appropriate, because the launchers were removed from all of the Gruppe Fehrmann Tigers. But the parts provided for the rear corners of the hull (F27,F28) do not accurately represent the system when the launcher is removed; compare them to the photo here.