About this detail of the Tiger
The cooling air inlets and outlets of the Tiger I had protective mesh screens fixed over the heavy cast grilles. The purpose of the screens was to prevent explosive charges falling through the large holes in the grilles [2] .
These screens were apparently fixed to the grilles at several distinct points, but I don't know how this was done. They may have been tied with pieces of wire but I can't see such even on close-up photos. It's more likely that they were spot-welded. In any case, the attachment was inadequate and they went missing from many tanks.

This model shows the mesh on the right-hand air outlet. Notice that some of the wires are cut away to make room for the latch of the grille underneath.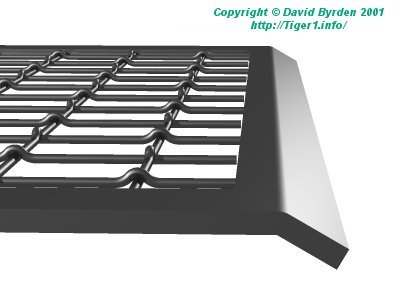 On all these meshes, the sides of the frame were bent slightly downwards at left and right sides.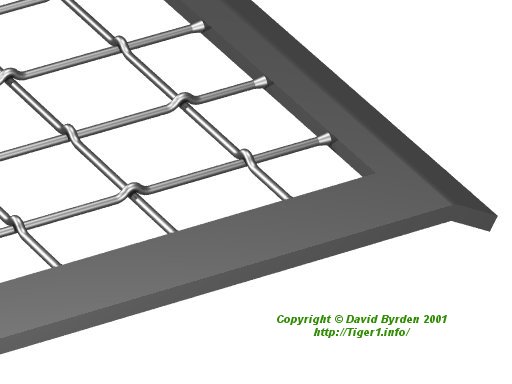 In this closeup you can see how the wires crossed over each other. They were apparently not welded at the intersections, and so the wires could become twisted and bent from everyday wear and tear.
The meshes consisted of: a rim made of flat metal strips 25mm wide and probably 5mm thick; a grid of heavy wires (around 2.5mm diameter) with roughly 35mm spacing, welded at the ends; and a second grid made of fine woven wire with approximately 9mm spacing. The fine grid is not shown in these models.
The above diagram shows the heavy wires on the right-hand outlet mesh.
Early - October 1943 - ??? - December 1943 - Late
There were at least two designs of mesh used on Tigers. The first kind was produced at least up to October 1943 and the second type was in use by December 1943. The exact date of the change is not known to me. (We can see the later type in a photo, on a Tiger of s.Pz.Abt 508; the vehicle has no S-mines but still has the Feifel V-duct. The vehicle was therefore produced in November or December 1943.)
The difference between the two designs is that the spacing of the heavy wires was reduced slightly to fit more wires in. This diagram shows that the later meshes had 26 wires reading across them, compared to the early ones which had 24. The number of wires reading along has increased from 11 to 12.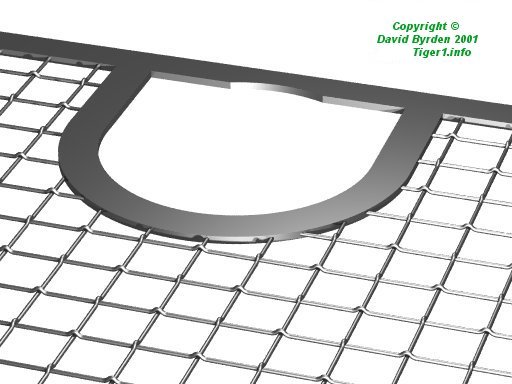 The meshes on the air inlets were larger and more complex. They had a cutout for the fuel tank filler cap, and this cutout had its own metal surround.
The above diagram shows the early-model inlet mesh. Note that the straight edge is slightly cut away to clear the fuel cap.
This is the late-model inlet mesh, where the number of wires has been increased.
[1] Survey of Tiger 250122, at Bovington museum, by David Byrden
[2] DW to Tiger 1