The Tiger, like contemporary Panzers, had an electric trigger circuit for its main gun. The design and components were the typical German ones of the time, carried over from the Panzer III and Panzer IV. The trigger circuit can be divided into two parts : the gun circuit and the turret circuit. They were connected by a plug and socket on the turret roof [2] . In this photo of a museum tank, the gun has been unplugged.
This is the original trigger circuit as drawn in the Turret Manual [3, see Plate 59] . The turret's portion of the circuit is highlit. A 12V DC power line from the "Kasten 5c" enters the image at lower right. The "Notbatterie" (Emergency battery) is in the turret, allowing the gunner to fire after loss of the main battery. "Wechselschalter 1" (Toggle switch 1) routes either the main or emergency battery to the "Abfueurschalter" (trigger switch). The "Steckdose" we saw in the photo above.
A smoke grenade system with electrical triggers was added very early in the Tiger's evolution, after the above diagram was completed. The triggers are not drawn on it, and nowhere in the Turret Manual is there a circuit diagram for them.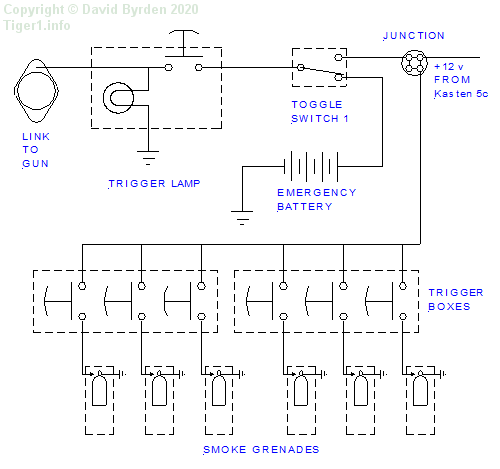 An examination of the preserved Tiger "712" reveals how the smoke grenade triggers were incorporated into the circuitry. A junction box was added so that a power cable could draw +12V from the main battery supply for them. The six smoke candles each had a trigger button.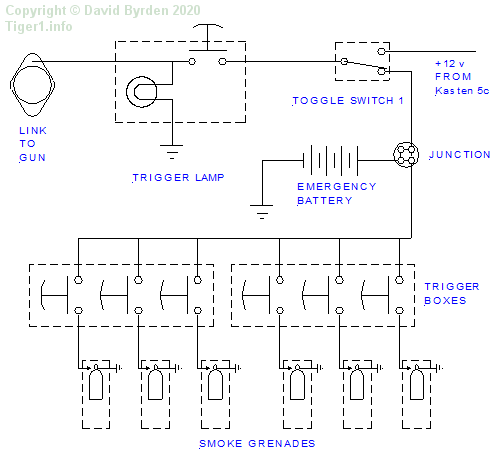 A redesign of the turret was done after 55 had been built [1] . It was probably at this time that an electrical change was made : the smoke grenade triggers were now powered by the backup battery instead of the main battery. Here is the modified circuit, as implemented in Bovington's Tiger "131".
Later, but still during the "Early Tiger" period, the smoke grenade system and the emergency battery were deleted. The resulting trigger circuit was very simple and is depicted here in the Turret Manual [3, see Plate 59] . This circuit was unchanged for the remainder of Tiger production.

The physical layout of the wiring, and the circuit components, are discussed under "Wiring in Early turret"

[1] DW to Tiger 1

[2] Survey of Tiger 250122, at Bovington museum, by David Byrden