About this detail of the Tiger
Under the floor of the Tiger 1 there are two large, open storage bins flanking the drive shaft. The one on the right side is designed to hold 6 projectiles. The bin on the left side is just a box for the crew's possessions.
This is the right-side bin in a museum vehicle. It has wooden brackets (arrowed) for securely supporting two layers of three projectiles.
Rye Field provide two bins in several of their Tiger interior kits, but there are problems with their shape and content.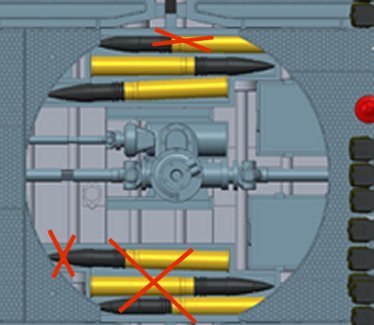 Rye Field Model don't provide any brackets in their right-hand bin (part K61). Their instruction sheet tells you to store the shells loose, and it draws them with this orientation. But the real bin's brackets would not hold the shells pointing this way.
Rye Field tell you to put shells in the left-hand bin also (part K62). But the real bin didn't have any brackets and would not be used for ammunition. In fact, it is impossible to fit three shells on the floor of this bin, because it is not the same shape as the right-hand bin. It Is narrower and has no front extension.
I have edited the Rye Field CAD to show you the real situation. The right-hand bin is at the top of this image, and it holds the shells in this orientation only. I have indicated the leather straps that hold them down. I drew the other bin empty, and I edited it to have its real shape, which is shorter and narrower than the ammunition bin.
Detailed photos of these storage bins are in the book "Tiger" by The Research Squad.