Of all the mistakes and inaccuracies in this kit, the greatest one is the inclusion of a turret floor.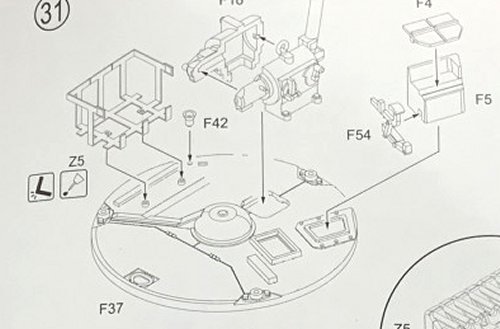 This is the turret floor as drawn in the kit's instructions. It's a circular platform attached to the turret ring. It carries several items that you can see here; a gearbox, a basket containing three jerrycans, foot controls for the turret rotation, and more.
None of this existed in the real Tiger (P). It is all a mistake.
Photographs of this tank's prototype [1, see page 29] clearly show us that it had no turret floor. Instead, it had a ramp to catch shell casings.
Why would Amusing Hobby put so many detailed parts into this kit, if the real tank didn't have them in the first place? Amusing Hobby have not stated their reasons. But one thing is clear: this is a copy of the floor in a different tank, the Henschel Tiger. In fact, I can be more specific than that; these parts are inspired by Rye Field's models of the Henschel Tiger. Because Rye Field made some mistakes in their floor (items of equipment are missing) and those mistakes are repeated here.
This decision to "paste in" a section from a different kind of tank, makes this model kit highly inaccurate in its core. For example, when you lift out the turret, you immediately see a large round hole in the hull floor. The real tank didn't have such a hole.
I cannot write a brief guide on how to correct this problem. Removing the floor from the turret would be relatively simple, filling the hole in the hull floor would be not much more difficult, but the missing items (the shell-catching ramp, the gunner's controls) would have to be designed and then scratchbuilt. And we don't have enough images on which to base those designs.
[1] Der Panzerkampfwagen VI und seine abarten, Walter J. Spielberger, Motor Buch Verlag